I think it's fair to say that over the past few months, most of us have been more attentive with our homes and their general upkeep. Whether you've taken to deep cleaning the place from top to bottom (more than once!) or spruced up the garden to have it ready for the few days of sunshine that we got this summer, our homes have likely never had so much tlc.

But, if you're like me and during the time you've spent at home, you have noticed things around the house that you want to change, and they are starting to niggle away at you. But when you think about freshening up your home, you often think this means spending a lot and let's face it, during this current climate, we don't want to be over spending when you don't need to.
In this short post, I will give you some ideas to refresh your home and give it a new lease of life without breaking the bank.
Update Your Radiators
When it comes to your radiators, you can really underestimate the impact that they can have to the overall look of a room. For many of us, they are not the first thing to pop into your head when you think of decorating, especially if you are on a budget, but they are alot more affordable that you would think. Check out the options available at Trade Radiators, they have a wide range from traditional to cast iron and everything in between.
Get Painting
A freshly painted home will give a clean feel overall and if you decide to change up the colours from what you had before, it can make a huge impact. But before you get your overalls at the ready, I should say that unless you are giving a white wall a fresh coat, you shouldn't ever start painting a room without trying the colour on the wall first. It's worth remembering that colours that you have only ever seen online or in the paint shop can look very different once your walls are covered in that same colour, the lighting and decor of a room will definately effect how you see the colour at home. You don't want to find yourself in a situation where you are out of pocket and time on a colour you really don't like. Luckily, most retailers are more than happy to give you a sample to try at home.
Fresh Accessories
Accessories like mirrors, wall art, ornaments and storage baskets etc, you can give your home a whole new look and feel. This also doesn't need to cost too much either. For example, why not look at upclycling an old frame with a new colour. Even replacing your existing light fixtures, door handles and furniture knobs which can also make a big difference.
Add Some Greenery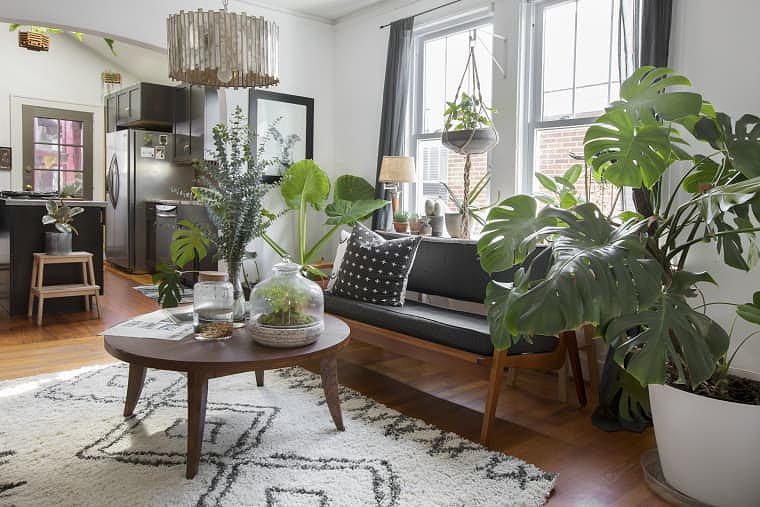 Finally, think about adding some air purifying plants to your home. Not only do they help to improve the quality of the air that you are breathing in, they just make any space look better.
There are so many different shapes and sizes to choose from, but if you really don't know where to start, you could check out a plant site for inspiration and recommendations on which plants suit different areas of the home.
I hope that this short post gave you a little inspiration to freshen up your home!